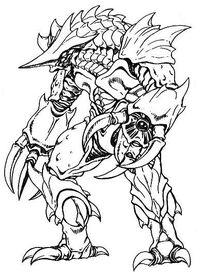 Delcasse was developed in an attempt to create a new Hyper-Zoanoid type. He was deemed to fall short of that designation, but he was still more powerful than most production Zoanoids.
He possesses dense, angled armor, covered in spikes, with one horn prominently on his head. His forearms end in enormous, three-pronged claws, which surround massive bio-blaster units.
Community content is available under
CC-BY-SA
unless otherwise noted.