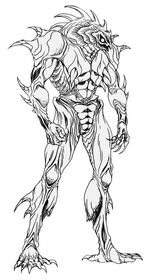 A power-type Zoanoid which was designed for underwater combat. It has fish-like gills, not only in its neck, but in several locations on its body, ensuring excellent oxygen distribution throughout its body. It is equipped with many razor-sharp, blade-like spikes down its spine, on its shoulders, on its limbs and even on its chest.
Despite its other abilities, its strength level was deemed unsatisfactory and thus only one was ever created, which perished in the Takeshiro incident.
Community content is available under
CC-BY-SA
unless otherwise noted.