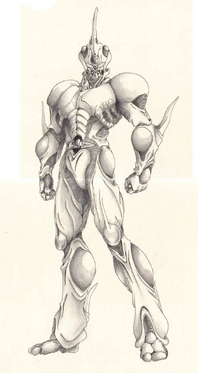 The first human to be equipped with a
Bio-Booster Armor
in ancient times by the
Ouranos
. He rebelled against the Creators and attacked one of their ships. He was eventually defeated by
Archanfel
.
He is a muddy-green color (although he appeared to have a pink-ish hue in the 1994 feature film Guyver 2: Dark Hero) and shares most of his features with Guyver 2. He has a unique collar and is possibly 5'10" or 5'11". He appeared virtually hairless, bald and was likely a cro-magnon.
Other Media
Flashbacks of Guyver 0 appear in both the 1994 feature film Guyver 2: Dark Hero and the 2005 anime Guyver: The Bioboosted Armor. In both occasions, Guyver 1 (or simply The Guyver as he is known in the films) is fed historical images by the Relic as he assimilated with it.
Guyver 2: Dark Hero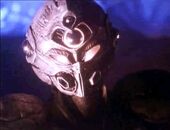 As well as images of cavemen turning into Zoanoids, Shawn also witnessed the first ever human transform into a Guyver. Nothing is revealed of the Guyver's fate, although it is implied that shortly after his appearance, the alien visitors appeared to leave the Earth in a hurry.
Guyver: The Biobooosted Armor
In the anime, Guyver 0's appearance was nearly identical to his appearance in the Manga. Guyver 1 was assimilating with the Relic, preparing to act as it's pilot. During this assimilation, the relic fed images of its past experiences. One of these was Guyver 0's appearance and subsequent defeat after his armor was discharged by the
Unit Remover
.
Community content is available under
CC-BY-SA
unless otherwise noted.