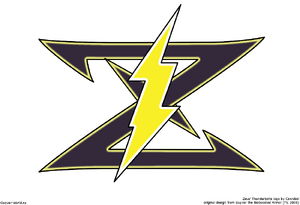 Zeus' Thunderbolts
 is the name of the organization that opposes
Chronos
, and is the leading millitRy movement post
X-Day
. The resistance itself is comprised of disgruntled citizens, most of whom are Americans, and american military personnel. It was created by
Agito Makishima
, whom calls himself Zeus after the chief staff. Became president just recently liberated all of North America and. The uk and the Soviet Union . They dedicated their efforts to destroying Zoanoid factories world wide. Despite mostly being humans they are a threat to average Zoanoids.
This article is a stub. You can help Guyver Wiki by expanding this page.

Community content is available under
CC-BY-SA
unless otherwise noted.